Saint Angels dwell in Heaven, in the world, which is invisible and spiritual. Worshipping Saint Angels in Church is as ancient as church itself. In the Old Testament, Prophet Moses, having received commandments from God, simultaneously received His Decree to place golden figures of Cherubims in the Sancta Sanctorum. (Exodus 37, 7-9)

Our predecessors, who were committed Christians, used to worship Angels for through them people would receive even more help from Lord. In order to thank Heavenly Messengers people used to build Churches in their honour.

One of such Churches built in honour of Michael the Archangel and other Angels stands in Ukraine, village Rakitnoe, Novovodolazhsky District of Kharkovskaya Oblast. Village Rakitnoe lays on the left bank of the river Mzha, which is fifty kilometers away from Kharkov city, three kilometers away from railway station called "Ordovka" and five kilometers away from a place so dear to every Christian of "Slobodskiy Krai" — a place where Icon of God Mother called "Ozeryanskaya" appeared. Rakitnoe is a beautiful, picturesque village, situated on the hilly area, surrounded by large fields and shady forests. This land has been attracting people from the ancient times. Our forefathers used to settle there from the old times of the rule of Russian Tsar Aleksey Mikhailovich, father of Peter the First. Migrants from the right-bank Ukraine used to found their own villages and towns on the crossroad of the Wild field that bordered on Russia, Polish-Lithuanian Commonwealth and Crimean Khanate. Village Rakitnoe was named after widely spread plant rakita (willow) that grows all over valleys and banks around river Mzha. Official date of "Rakitnoe" founding is believed to be 1699.

In 1711, in the course of Prussian crusade, organized by Tsar Peter the First, along with Prince Dmitry Konstantinovich Kantemir, Moldovan noblemen, Slobozhanshina was visited by Prokopiy Kulikovskiy. "Volokh" by origin, he becomes Colonel of Kharkov. Prokopiy Kulikovskiy was a founding father of famous Slobozhanskiy family of Kulikovskie. "Rakitnoe" was a family estate of the Kulikovskie through many centuries. "Rakitnoe" amazed contemporaries with its developed and beautiful land. Grandson if Prokopiy Kulikovskiy was honoured to conduct capital part of reconstruction of the estate. He raised a new mansion — luxurious lordly house with piazza in Doric style, stanzas, side wing and accessory buildings — stables, poultry house, greenhouse, cattle yard constructed next to mansion. Architect G. Lukomskiy while traveling through Slobozhanschina in the very beginning of XX century, was absolutely startled by Kulikovskie estate. In his book "Old estates of Kharkov gubernia", published in Petrograd in 1917, Lukomskiy writes: "The whole mansion architecture gives one a very pleasant impression. On both sides mansion is adorned by piazza, looks all very logical and properly-planned."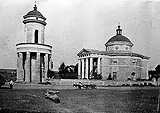 Alongside mansion there was laid out a huge garden with porches and ponds. Estate looked even more beautiful with oak grove and a park with outlandish trees. But a true miracle of architecture in the whole estate was Church, built in 1805 at the expense of Mikhail Matveevich and dedicated on November, 8 (according to the old style) by eminent Christopher (Sulima), Bishop of Kharkov. Church has the appearance of a round building with two porticos each standing out on the side of porch and altar. Church is crowned by dome that stands on a cylinder with cut out little windows. Double-deck bell-tower, raised alongside church looks even more gracious and sophisticated. The first stage of bell-tower was surrounded by pillars, second was adorned by flat pilasters. Bell-tower had cut out niches; proportion of the window of the toll is a narrow arch. Grigoriy Lukomskiy wrote: "Church and mansion represent an integrated piece of architecture. Its composition is very noble and fine". Church was luxuriously decorated. Interior scene was adorned by the grill of an Icon stand in Empire style, large silver chandelier, small chandelier in style of Elizabeth Baroque, local icons in antique carved frames (obviously made by local craftsmen), Image of the Savior as if painted by Guido Renee in silver casing. Icon stand was dark blue with golden stripes (later all gold-plated). Christmas Star replaced "Lord's Supper" Icon; Lord of Sabaoth was placed there instead of Calvary. Some time later those icons were replaced by different ones. It's noteworthy that a number of representatives of Kulikovskie family were buried inside of the Church, where in their memoriam there were staged gravestones.

From 1849 till 1895 Church had three altars: main, in the name of Michael the Archangel, called "cold" and two altars called "warm", situated on the two sides where choruses are placed in the name of Images of "Not-Made-By-Hands" of our Lord Jesus Christ and God Mother Akhtyrskaya on the right and Holy Martyrs Sophia, Clement and Agaphangel on the left. In 1895, under the benediction of bishop Amvrosiy (Klyucharev), there were removed Choruses and Holy Doors, which needed reconstruction because of their ramshackle state. So, two-coloured paint coating was changed into sole-coloured white. Earlier, white pillars stood out so well against dark-red walls.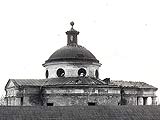 Unfortunately, we'll never be able to witness that beauty again. In April, 1936, joyful Easter hymns sounded in that Church for the last time. It was closed down shortly after. Grave-stones of the Kulikovskie, who did so much for the estate, were thrown into the river for strengthening the embankment. Family grave was all violated and destroyed. In 1939, at the direction of the authorities village activists removed bells from the bell-tower. By 1941, beautiful bell-tower was taken to pieces by village dwellers. The Church itself became a place for dancing. After World War II people started to use Church as a warehouse with grain, mineral fertilizers, spare parts for agricultural machinery. Later, Church was neglected at all. In the inside it looked very uncomfortable and deserted. Only doves lived inside, the Church floor was all covered by dove excrements. Despite everything, this place remained nothing but Church, which obviously had to go back to fulfilling its original and all-time purpose.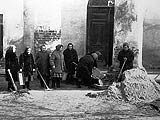 God can never be abused. Thank God, some people in Rakitnoe still remembered the Church in its glory and beauty. They heartily wished to see the House of God regenerated and returned to the former glory. Village dwellers wished to gather together there, because Church is not only a building, its people in the first place. In 1989, there were found people, who Church could rightfully belong to. Reconstruction works were entrusted with community of the believers headed by Anna Kharitonovna Bovtruk. She was the person who visited many offices of power-that-be with demand to restart Services in Church. Authorities agreed to pass to community an old house where Church services started to take place. On August, 28, 1991, hieromonch Nikodemus (Sylko) was sent to Rakitoe to take care of laity there.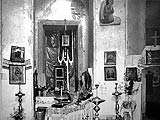 On November, 13, 1991, in half-destroyed Church, after so many years of neglect there was served first Divine Liturgy, which signaled that process of revival of spiritual life in Rakitnoe finally started. A year later, on September, 19, Rakitnoe for the first time after a long-lasting break was celebrating a holiday — remembrance of the miracle performed by Michael the Archangel. Liturgy was serviced by Metropolitan of Kharkov and Bogodukhov Nikodemus and watched by numerous religious communities from around the region. So the ancient shrine has started to regenerate ever since. Help was coming from people of Rakitnoe, as well as other regions, such as Novaya Vodolaga, Vatutino, Kharkov. Pupils, students from the local college together with their Principal and teachers, soldiers from the nearest military units also contributed their help. Aid of local collective farm, headed by Aleksey Timopheevich Berezhnoy made possible reconstruction of the Church roof, making of a new icon stand, floor and transoms. Also, a considerable help in reconstruction of the Church was contributed by: Cathedral of the Annunciation in Kharkov, Ozeryanskaya Church and Church of Beheading of St. John the Baptist, Kharkov entrepreneur and currently vice-president of World-Wide League of Patrons Galina Ivanovna Podoprigora, state quarantine service of plant protection headed by Larisa Ivanovna Kravchenko, Director of JSC "ADIS" Sergei Nikolaevich Rusinov, Novoselovsk Mining and Concentration Complex headed by director Nikolai Vladimirovich Osedtsya.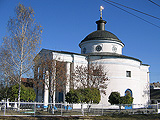 After Church was finally opened, reconstruction works included changing of roof coating, making of a new Icon stand, floor, transoms, Church was plastered both in the inside and outside. Altar was frescoed, church territory was fenced about, all necessary church utensils were bought. So, the Church of Michael the Archangel was finally reconstructed and its dome was crowned by golden cross. But what is more important is that Divine Services started to take place regularly. All-night services on the eve of Sundays, Great holidays in summer time start at 15:00 pm, in winter time — at 14:00 pm. Divine Services on Sundays and Great holidays start at 9:00 am.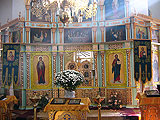 Church services become even more triumphant and splendid in the days of celebration of two holidays — Patron Saint's Day on November, 21 and the Day of remembrance of the miracle performed by Michael the Archangel on September, 19. Among the sacraments that Church offers are christening, wedding ceremony, confession, the Eucharist, burial, prayer for the dead, prayer for the alive. Church also has Sunday school. Michael the Archangel performed miracle by saving Church from flooding in town Khonekh. It was a true miracle that happened in Rakitnoe. This fact in known to everyone familiar with the history of building the Church, semicentennial neglect and its regeneration. Church resurrected in glory and splendour helping our souls with prayer and repentance revive too. *** See also on our website (in Russian):